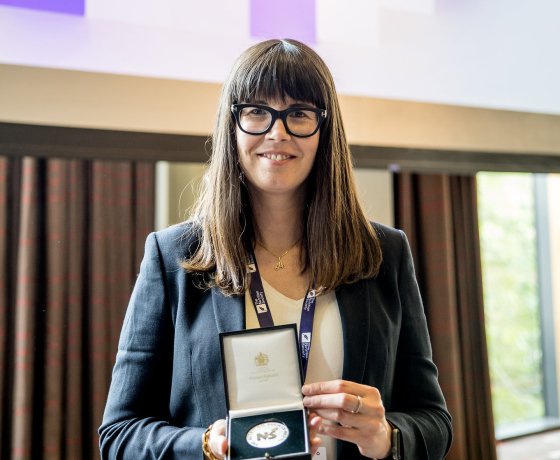 The Nutrition Society Silver Medal has been assigned annually since 1991 for scientific excellence in the field of nutrition.
Applicants must be Nutrition Society members and within 15 years of higher degree graduation at application.
Provided that this criterion is met, there is no limit to the number of times an application can be made, however previous winners are ineligible. Each subsequent application must be a new submission made in full.
Candidates may request that any career breaks, such as maternity leave or long-term illness be taken into account when determining whether the candidate is still within the eligibility period.
Applications will be judged by a panel of distinguished nutritionists from a variety of institutions and areas of expertise. Judging will focus on the following criteria:
External recognition in

Scholarships and awards
Leadership of innovative research
Contributions to conferences and professional Societies

Evidence of extensive academic publications
Evidence of a record of sustained research funding
1994, Prof Michael Symonds, University of Nottingham, UK. Pregnancy, parturition and neonatal development: interactions between nutrition and thyroid hormones.
1995, Prof Ilias Kyriazakis, University of Newcastle, UK. A solution to the problem of predicting the response of an animal to its diet.
1996, Prof Michael Goran, University of Southern California, USA. Energy expenditure, body composition, and disease risk in children and adolescents.
1997, Dr. James Stubbs, University of Derby, Derbyshire, UK. Appetite, feeding behaviour and energy balance in human subjects.
1998, Dr Susan Jebb, University of Oxford, UK. Obesity: from molecules to man.
1999, Prof Aedin Cassidy, University of East Anglia, UK. Phyto-oestrogens through the life cycle.
2000, Dr Gema Fruhbeck, University of Navarra, Pamplona, Spain. A heliocentric view of leptin
2001, Dr Susan New, University of Surrey, UK. The role of the skeleton in acid-based homeostasis
2002, No winner.
2003, Dr Parveen Yaqoob, University of Reading, UK. Fatty acids and the immune system from basic science to clinical application.
2004, Dr Paula Moynihan, University of Newcastle, UK. The interrelationship between diet and oral health
2005, Dr Simon Langley-Evans, University of Nottingham, UK. Developmental programming of health and disease
2006, Dr Patrick Schrauwen, University of Maastricht, The Netherlands. High-fat diets, muscular lipotoxicity and insulin resistance
2007, Dr Amelia Marti, University of Navarra, Pamplona, Spain, Interaction between genes and lifestyle factors on obesity
2008, Dr Anne Minihane, University of Reading, UK, Nutrigenetics: A useful public health tool or simply an expensive (insightful) research exercise
2009, Dr Jeremy Spencer, University of Reading, UK, Beyond antioxidants: the cellular and molecular interactions of flavonoids and how these underpin their actions on the brain
2010, Dr Sangita Sharma, University of North Carolina, USA, Development and use of FFQ among adults in diverse settings across the globe
2011, Dr David Gardner, University of Nottingham, UK, Development and the Art of Nutritional Maintenance
2012, Dr Jayne Woodside, Queen's University Belfast, UK, Fruit and vegetables: measuring intake and encouraging increased consumption
2013, Professor Ulf Ekelund, Norwegian School of Sport Science, Norway, Physical activity, sedentary time and obesity prevention – a life course perspective
2015, Dr Denise Robertson, University of Surrey, UK. Dietary fibre and type 2 diabetes: from 'bacteria to benchside'
2016, Dr Wendy Hall, King's College London, UK, The future for long chain n-3 PUFA in cardiovascular protection – do we need to target nonfish eaters?
2017, Professor David S Sanders, The Royal Hallamshire Hospital and University of Sheffield, UK, Breaking Bread!
2018, Dr J. Bernadette Moore, University of Leeds, From sugar to liver fat and public health: System biology driven studies in understanding non-alcoholic fatty liver disease pathogenesis
2019, Dr Mary Chong Foong Fong, National University of Singapore, Influences of the perinatal diet on maternal and child health in an obese world.
2020, Dr Vimal Karani, University of Reading, GeNuIne (Gene-Nutrient Interactions) Collaboration: Towards implementing multi-ethnic population-based nutrigenetic studies of obesity in lower middle-income countries.
2021, Dr Mario Siervo, University of Nottingham, for his research on 'Inorganic nitrate reservoir in skeletal muscle: a "glycogen-like" role to control metabolicvascular coupling'.2022, Dr Sarah Berry, King's College London, 'Personalised nutrition for metabolic health'

2023, Dr Ana Rodiguez - Mateos, King's College London, UK, Dietary (poly)phenois and human health: from antioxidants to modulators of the gut microbiota
Get in touch
If you have any queries or would like to find out more, please contact the Society's Events Officer via email.