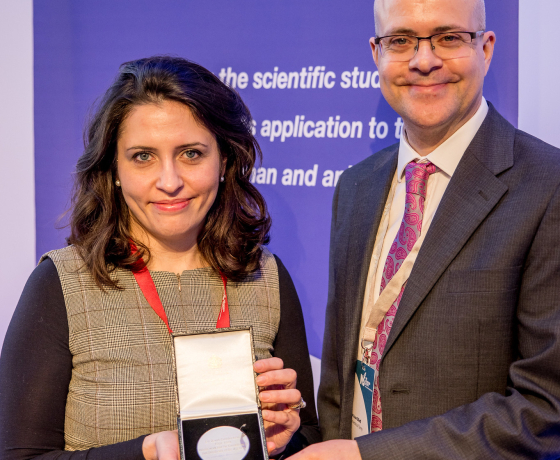 Cuthbertson Award
The Nutrition Society Cuthbertson Award has been awarded annually since 1990 as a tribute to Sir David Cuthbertson.
It is awarded to scientists or clinicians at an early stage of their career for excellence in clinical nutrition and/or metabolism research providing an evidence base for clinical practice.
You can now submit your application for the Cuthbertson Medal 2023. Please submit your entry as per the guidelines below to [email protected]. The application deadline is now closed.
What will I be awarded?
The successful candidate will be awarded free membership of the Nutrition Society for one year, will receive the award and present their research during the Nutrition Society Winter Conference 2023, 5-6 December, the Royal Society London (topic does not need to be linked to the topic of the conference), and be invited to prepare a paper for publication in the Proceedings of the Nutrition Society (PNS).
Am I eligible?
Applicants for this prestigious award should be scientists or clinicians within 15 years of higher degree graduation at application. The work should be of clear relevance to nutritional management in patient care. Research related to the epidemiology and prevention of disease, i.e. public health nutrition, are not eligible. Re-applications will be considered.
Applications will be judged by acknowledged experts in the field.

Work will be assessed for:

1. Relevance to the terms of reference
2. Quality and impact of the submission
3. Publication record
4. Evidence of independent scholarship
5. Future potential
1990, J.N. Alastair Gibson, Department of Orthopaedic Surgery, University of Edinburgh and Department of Anatomy & Physiology, University of Dundee, UK, The effects of injury and joint disease on muscle mass and protein turnover
1991, Kenneth C.H. Fearon, University Department of Surgery, Royal Infirmary of Edinburgh, UK,The mechanisms and treatment of weight loss in cancer
1992, Kenneth G.M. Park, The Department of Surgery, Aberdeen University and The Rowett Research Institute, Aberdeen, UK, The immunological and metabolic effects of L-arginine in human cancer
1993, Jeremy M.D. Nightingale, Department of Gastroenterology, St Mark's Hospital, London, UK, Clinical problems of a short bowel and their treatment
1994, Timothy E. Bowling, Department of Gastroenterology and Nutrition, Central Middlesex Hospital, London, UK, Enteral-feeding-related diarrhoea: proposed causes and possible solutions
1995, Philip C.Calder, Department of Biochemistry, University of Oxford, Oxford, UK, Immunomodulatory and anti-inflammatory effects of n-3 polyunsaturated fatty acids
1996, Susan A, Jebb, MRC Dunn Clinical Nutrition Centre, Addenbrooke's Hospital, Cambridge, UK, Energy metabolism in cancer and human immunodeficiency virus infection
1997, Derek C. Macallan, Division of Infectious Diseases, St. George's Hospital Medical School, London, UK, Metabolic abnormalities and wasting in human immunodeficiency virus infection
1998, Mark J. Holness, Molecular and Cellular Biology, Division of Biomedical Sciences, St Bartholomew's and the Royal London School of Medicine and Dentistry, Queen Mary and Westfield College, London, UK, The impact of dietary protein restriction on insulin secretion and action
1999, Jas S. Samra, Department of Surgery, Royal North Shore Hospital, Australia, Regulation of lipid metabolism in adipose tissue
2000, Gordon L. Carlson, Department of Surgery, Hope Hospital, Salford, UK, Insulin resistance and glucose-induced thermogenesis in critical illness
2001, John J. Reilly, University of Glasgow Department of Human Nutrition, Royal Hospital for Sick Children, Glasgow, UK, Understanding chronic malnutrition in childhood and old age: role of energy balance research
2002, Simon Eaton, Surgery Unit and Biochemistry, Endocrinology and Metabolism Unit, Institute of Child Health (University College London), London UK, Impaired energy metabolism during neonatal sepsis: the effects of glutamine
2003, Dileep Lobo, Section of Surgery, University Hospital, Queen's Medical Centre, Nottingham, UK, Fluid, electrolytes and nutrition: physiological and clinical aspects
2004, Rebecca Stratton, Institute of Human Nutrition, School of Medicine, University of Southampton, Southampton General Hospital, Southampton, UK, Elucidating effective ways to identify and treat malnutrition
2005, Gema Fruhbeck, Department of Endocrinology and Metabolic Research Laboratory, Clínica Universitaria de Navarra, University of Navarra, Pamplona, Spain, Hunting for new pieces to the complex puzzle of obesity
2006, M Denise Robertson, School of Biomedical and Molecular Sciences, University of Surrey, UK, Metabolic cross talk between the colon and the periphery: implications for insulin sensitivity
2007, Helen Budge, Academic Division of Child Health, School of Human Development, University Hospital, Nottingham, UK
2008, Carel W le Roux, Department of Metabolic Medicine, Hammersmith Hospital, Imperial College London, UK, Gut hormone profiles following bariatric surgery favor an anorectic state, facilitate weight loss, and improve metabolic parameters
2009, No Winner
2010, Barbara Fielding, Oxford Centre for Diabetes, Endocrinology and Metabolism, Churchill Hospital, Oxford, UK and Postgraduate Medical School, University of Surrey, Guildford, UK, Tracing the fate of dietary fatty acids: metabolic studies of postprandial lipaemia in human subjects
2011, Professor David S Sanders, Department of Gastroenterology, Royal Hallamshire Hospital, Sheffield, UK, Emerging concepts: from coeliac disease to non-coeliac gluten sensitivity
2012, Dr Kevin Whelan, King's College London, UK, Interaction between the microbiota and dietary carbohydrates in the management of gastrointestinal disease
2013, Professor Maria O'Sullivan, Trinity College Dublin, Ireland, Evidence for Vitamin D as a novel anti-inflammatory therapy - a ray of hope or false dawn
2014, Dr Alexander Miras, Imperial College London, UK, Food reward after bariatric surgery
2015, Dr James Betts, University of Bath, UK, The Science Behind Breakfast
2016, Dr Sinead Duggan, Trinity College Dublin, Chronic pancreatitis: Negotiating the complexities of clinical nutrition in exocrine and endocrine dysfunction
2017, Professor Leanne Hodson, University of Oxford, Hepatic fatty acid synthesis and partitioning: the effect of metabolic and nutritional state.
2018, Cuthbertson Award not awarded
2019, Dr Aoife Ryan, University College Cork, Impact of musculoskeletal degradation in cancer and strategies for management in clinical practice.
2020 Dr Richard JE Skipworth, Royal Infirmary of Edinburgh, for his research entitled 'Muscle and fat wasting in cachexia: the metabolic response to cancer' .
2021 Dr Nerys Astbury, Nuffield Department of Primary Care Health Sciences, University of Oxford for her research on Low-energy total diet replacement weight loss programmes- from bench to bedside.
How to apply
Applicants for the award must supply:
A brief up to date curriculum vitae
A 1000 word summary of their contribution to an area of relevance to clinical nutrition and/or metabolism
An abstract summary of the proposed lecture at the Nutrition Society Winter Conference
Copies of up to three published papers in support of their application
The names, addresses and emails of three Proposers who are familiar with the applicant's work and who will support the application